I'm currently writing the third book in my Dieselpunk series, named after the first book 'Through Glass Darkly'.
This was a fun project I started after attending the Asylum Steampunk Festival in Lincoln @AsylumSteampunk, which was full of some fabulous people, with wonderful names, wearing amazing costumes along with some truly ingenious contraptions, from weapons and armour to hats, wings and mock scientific paraphernalia.
I'd gone to the festival just after I'd finished writing my first book, a high adventure story set in the 1930s with lost temples, ancient artefacts and secret societies, but rather than sitting down to write book two in that series, as I'd been planning, I came away from the festival really wanting to write a back-story for the Steampunk and Dieselpunk characters that I'd spent the weekend with.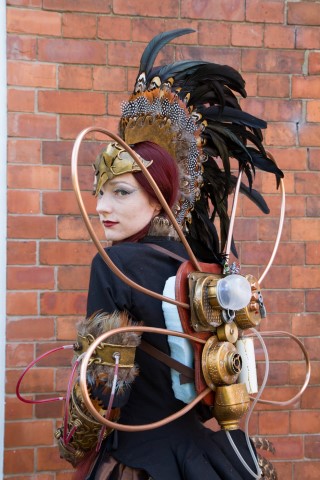 I wanted to invent a reason for all the elaborate goggles with extra lenses, for the aetheric weapons and armour which glowed or pulsed with such an enticing and attractive light. I wanted the airships pretended to have just arrived on to have a purpose like having monsters to fight, and I wanted them to built with strange new technologies that made them tougher and more capable than the often flimsy craft they were inspired by.
In a nutshell, I wanted a parallel universe where technology and history had taken a different turn, and in my imagination, I wanted the Asylum Steampunk Festival to be a gathering of those intrepid individuals who had returned to civilised society from the conflicts and adventures they were engaged, to recoup and recover before heading out once more to battle the nameless foe, or discover the strange new world where allies and strange new materials might be found.
The drawback with wanting all this, is that I didn't have a world to set it in, or a plot to hang these elements off, I didn't have characters or a backstory. In short I was starting in completely the wrong place.
Or more accurately, I was starting in a completely different place to where I'd started my Flames of Time story. With that I'd figured things out completely differently. I knew how I wanted the story to conclude, I knew what I wanted several of the steps along the way to be, after that I figured out who the bad guys were, and then who the main protagonists would be.
I plotted the story, all three books, in the space of a single month, before I wrote a single word. I hadn't heard of plotting on a page #novel_on_one_page or the #snowflake_method back then, so I invented my own approach, which I thought of as just creating the major plot points and then unfolding each one until I had a full plot for each book on a single side of A4.
This gave me enough detail to know where the story was going, but enough wiggle room to invent or research the details as I went along. And for my first book I felt it had worked well. I'd stuck to the plot, and created a good, solid first draft that hadn't required much tinkering with at all, I just needed to polish and edit it.
Angelina Jolie in the Dieselpunk film – Sky Captain and the World of Tomorrow
But this Dieselpunk story was different. I'd returned home after the festival and within a couple of days I'd had an idea for the opening sequence. I still didn't know what the story was going to be, or who the characters were, but I had an opening sequence, and I really liked it. So I broke my first rule, which had previously worked so well, I started writing before I had a plot.
It was a silly thing to do, I was sure. I'd started dozens of stories over the years which I'd gotten a few thousand words into before losing my way, closely followed by losing my momentum, and then that was the end of that.
So, I knew if I didn't want this story to falter and die, then I needed to plot, I needed at least a rough idea of where I was going next, before I got there with my writing. But at the same time the words were flowing so I kind of kept on writing, WHILE I was plotting.
I figured out the basic backstory, the point at which this imaginary world's history had diverged from history as we know it. Then I worked up the high-level story of how my characters, who I still hadn't defined, had gotten from that point in history where things had changed, to the opening scene that I was still writing.
And so began the game of cat and mouse. The mouse was my plotting, which raced on ahead, unconcerned with the detail, focused just on the big picture stuff, the cat chasing after was my writing. Bigger, slower and more detailed, impeded by the odd chair leg, which was research. I needed maps of New York in the 1930s, old photographs and cine clips of the same. I needed pictures of airships and sky-scrapers, people and clothing of the time. I needed to know about the police force and when police radios were first used, where the hospitals were located and what the old boathouse had looked like in Central Park.
Now I knew some of this, because my other book was also set in the 30s, but that was set in Africa the Mediterranean, and I knew things would be different in the US, which was only just beginning to recover from the great depression.
So the research slowed my writing, but it didn't stop it, and occasionally I'd uncover something along the way that would fire my enthusiasm and propel my writing forward with a giant bound.
It was hectic, and my journal entries from that time reflect the same. I was getting into the meat of the story, inventing characters with short and long arcs, villains with the same, and a world with a strange new history. I'd woven in exotic new technologies, invented reasons for the goggles with their multiple lenses, conjoured monsters and traitors and lots of action, and my writing was racing along.
But there was still more to figure out, to plot. I knew how this first book would finish by this point, but there was still a big gap around how I was going to get to that point. I needed settings and a twist to stir things up, and cause problems for the characters, and of course I needed to provide a set-up for the next book in the series, and the one after that.
My first book had taken me nearly two and half years to write. My Dieselpunk novel took me fourteen weeks.
It was a hectic, but fun filled time, and at the end I had a story which I loved. But, just as importantly, I'd learned another really valuable lesson in my development as an author, and that was to trust my inspiration. To apply as much discipline as I was able, but to be flexible in how I do things.
Today, with six novels under my belt, included the completed Flames of Time trilogy, and the first two books in my Glass Darkly series, I'm much more relaxed about the idea of losing my momentum, and abandoning stories. I know how much work a novel can be now, especially when its set in a historic setting or a historically 'inspired' setting.
Will I ever go back to writing a story without attempting to do any plotting, probably not. Part of the fun for me in writing a novel is figuring out the broad brush-strokes of the story in the form of a plot, but I also enjoy the odd game of cat and mouse, because I know now that even if the cat does occasionally catch up with mouse, it will only be a short while before the mouse wriggles free and the plot continues to take shape.
#writing #amwriting #writing_insights #writing_inspirations #plotting